I cannot say thank you enough for your outstanding craftsmanship and eccentric detail with my life size cougar mount. All your mounts are extremely impressive to be honest. A big tom has always been on my bucket list and in 2011 I was fortunate enough to harvest one. Your work speaks louder than words and you as a person is second to none. I truly appreciate the help and assistance you give in any question I have about proper field care. Your customer service is with the upmost professionalism. In the future, sure hope I have many more trophies to bring you to add to my personal collection. Again, thank you for the great work and the friendship.
Mackenzie Weir (Stony Plain, AB)
At last my baby is up! It looks so amazing; I can't even believe it's my moose! I just can't stop staring at it … everything from the perfect angle of the antlers, to the vegetation (which looks totally real), right down to the moss and how the edge of the skull is cushioned in the moss/rock is total perfection. Thank you so much for doing this for me. I said to Kris, "It was a once in a life time hunt and now is a once in a life time piece of art to celebrate that moment."
Melanie Herbert (Slave Lake, AB)
In 2013, I had the opportunity to hunt caribou in Nunavut. I sent my two caribou to Marco at Sugar Creek Taxidermy, and was able to take them home in summer of 2015. I was extremely pleased with the results, one pedestal mount and one wall mount. My caribou look amazing, as if they could come to life any minute! Thanks to Marco, I will be able to look at these animals and enjoy the memories of the hunt for years to come. I would recommend Sugar Creek Taxidermy to any hunter looking for exceptional trophies.
Jeremy Voth (Saskatchewan)
It all started in 2012 when my boyfriend and I wanted to go antelope hunting in Wyoming. We applied for tags and got drawn the same year. In September we were off for the absolute best hunt I have ever experienced. We both came out with well respected antelopes. Mine scored 81 7/8 Boone and Crockett and Brad's scored 80 6/8 Boone and Crockett. we were trilled! When we got home we searched for the best taxidermist we could find to capture a realistic mount like we wanted. Because of our love for the show Live 2 Hunt, and respect we have for Cody and Kelsy, we thought that if they trusted Sugar Creek Taxidermy with their magnificent animals, then we for sure would too. I had a wonderful experience with Marco. He is very confident, kind and is an amazing taxidermist. He does everything he can to meet the needs of his client. turn around time was exactly when he said. I loved how he would send us little sneak peeks because he knew how we couldn't wait. Marco's work is definitely by far the best I've seen. The pedestal mount next to others just looks so much more realistic. I am so happy with my experience with Sugar Creek and will never take my mounts anywhere else. Not only is Marco my taxidermist, but he is my friend and I cannot thank Marco and Nancy enough for the joy this mount has brought to me.
Teesha Klein and Brad Tourett
This is Sarah Gossling!!! I am sorry that it has taken this long for me to get this to you but we were on a month long hunting trip in northern Alberta. Thank you so much for all that you have done for us!!!
As a 14-year-old hunter, I was excited to have taken a nice drop tine buck last year and I wanted a realistic mount that captured the beauty of the animal. When we found Sugar Creek Taxidermy, we found not only a friend but also a very talented wildlife artist. I was very pleased with my mount and the time period in which he was finished. My buck has so many details that make him look so life-like. We have since brought Marco deer, cougar, and a bear. We are very pleased and would highly recommend him to anyone!!!! Thanks again!!!
I Just arrived home from a 5 day backpacking trip through the White Goat Wilderness. I walked in to the living room and instantly noticed that the deer hanging over the fireplace was not Sarah's and was mine. I was totally jazzed. What an AWESOME job! He looks absolutely great! Your work is outstanding and everything works on this mount. The thing that is totally cool is that the first time that I saw him it was only for a split second. I saw the antlers dropped to the shoulder and fired. Since he was at 300 yrds. and the rain was pouring down I did not find him until till the next day after the coyotes had finished him off. Sooo long story short this is the first time that I have seem him with his coat on and up close and personal. Thank you for your attention to detail and given each mount your very best.
I hope to see you soon….. hopefully with some more work.
All the best.
I am thoroughly impressed with not only the quality of work Marco has done on our antelope mounts, but also his professionalism and quick turn around. I knew beforehand to expect an exceptional piece and he did not disappoint. I will certainly be back with future projects for him and strongly recommend him to anyone looking to have their animals and memories cherished in his work.
Thanks Marco
In the Fall of 2012 my friend Jeff and I went on a hunt for trophy whitetail deer in Canada.  We are from Michigan and for years had been hearing about the large bodied deer found in Canada.  We planned and booked the hunt of a lifetime to try and pursue these big animals.  We were not disappointed.  Both of us harvested trophy whitetail bucks.  Our Outfitter suggested Marco at Sugar Creek Taxidermy Studio for mounting and shipping the animals back to Michigan.  We were very pleased with our results from Sugar Creek.  The artistry that Marco puts into the animals is astounding.  They look Awesome!   They were also finished ahead of schedule and Marco built a very sturdy shipping crate to protect the animals on their voyage back to Michigan.  The feeling of excitement and awe when I opened the lid on the crate is something I will never forget.  Thanks Marco for doing such a fantastic job and exceeding our expectations.
Mike Shenker, Michigan, USA
Marco, I can't thank you enough for all the hard work, time, and creativity that went into mounting my sheep! I am beyond amazed and "wowed" at the beauty of your work! When I shot my big horn ewe we already knew we would take her to Marco. He has mounted some of our other animals and we have been so pleased with his work. We weren't sure how we wanted my ewe mounted so we asked his opinion. He told us he had something really cool in mind, but he wanted to surprise me at the end! So we agreed and we are so glad we did! The second time I ever saw my big horn ewe was in my living room. I had no idea what she would look like! His idea for her was so original and his details are incredible! He takes the time to make everything perfect from one little hair on the head to the terrain surrounding the animal. I had never seen a mount of a big horn ewe, and had no idea how incredible they can look! I will always think of Marco and the fun memories of my hunt when I look at my majestic ewe! Thanks Marco!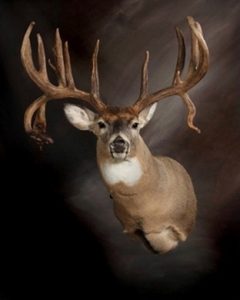 My name is Tony Rumsey I have been hunting in Alberta now for 14 years and have taken my share of nice game. But when I had taken the deer of a lifetime I really didn't know who I could get to do my mount for me and make it one of a kind. I had come across Marco and sat down with him, told him what I was looking for and left. The day I went back to pick it up words had left my mouth. It was the most outstanding piece of work that I had ever seen. After seeing the finished product I have done nothing but spread the word to everyone that I know.  I will continue to use Marco for all of my other trophies in the future. Thank you again Marco and please keep up the good work.
Tony Rumsey ( Red Deer, AB)
In 2009 I received the news that I would get an opportunity to harvest a wild bison in northern Alberta in early 2010, it would be a hunt of a lifetime for me! I was focused on getting a trophy and succeeded in harvesting a B&C bull. Before any of the fun started I knew I had to do some research to see where I should take him to be mounted, should I be lucky enough to get one. After touring some well-known taxidermists I stumbled upon Sugar Creek Taxidermy in Red Deer, and I'm glad I did. From the moment I walked in I was blown away by Marco's work. I just picked up the finished bison mount recently and let me tell you, pictures and words can't describe the beauty of what I have to mount on my wall. I almost felt like I was stealing walking out with my mount because I knew the number of hours Marco had put into it must have been many. Thank-you Marco and Nancy for making my hunt truly memorable…looking at the mount always brings me and everyone else involved in my hunt, wonderful memories! I know I will be back soon so you can preserve my next hunting memory. I don't know how to emphasize this enough! If you're a hunter and you care about how your mounts are going to look there is only one place that we recommend – Sugar Creek Taxidermy.
Tom & Christine Scott – Hanna, AB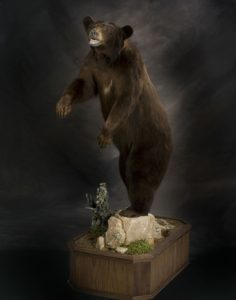 I was given Marco's name this past year and making the trip down to Red Deer to see his showroom was one of the highlights of my summer. I shot a very nice Pope and Young Black Bear this past spring and since it was a trophy of a lifetime, I wanted to take it to someone who not only would get it back to me in a reasonable period of time, but also someone who would do an excellent job in restoring the life to it. I called Marco up before going down to see him and right in the first few minutes of our first conversation, I could tell that he was the guy I was looking for. He was very personable on the phone and unlike a lot of other Taxidermists, was very willing to take in the work. When I first stepped into Sugar Creek Taxidermy's Studio, I was blown away. I've seen a lot of work over the years but I will tell you that no one I know of or have heard of has ever captured the life in an animal like Marco does. His work is unbelievable! Marco is a true artist. Words cannot really describe how fascinating his work is. You have to see it to believe it. You can tell that Marco is a guy who takes a lot of pride in his work and is not happy with second rate results. His work is World Class!
Dmytro Sawka (Northern Alberta)
As avid hunters we have harvested many nice deer in years past. In the spring of 2009 after our best hunting season yet, we found ourselves with a growing backlog as our present taxidermist was too busy in his main line of work to finish our mounts. Through referral from a friend of a friend we decided to go for a short drive to see the Sugar Creek Studio. Only moments in the door we felt as if we had run into an old friend. We delighted to find that even the first time customer is a valued customer. When your trophy is logged in and numbered you can feel assured you will be served in that order and in a fair time frame. Marco's artistry showed us a new level in the world of taxidermy as we viewed his studio and workshop. We have seen many heads and mounts and found no one who has captured such intense detail and feeling. It left us speechless. Marco takes pride in what you've harvested and makes it his own. Others simply manufacture mounts out the door. Marco gives your trophy the time and effort as if he had harvested it himself. We now enjoy two beautiful deer mounts and wait patiently for two more and a bird to be completed. We are truly in awe of such a talented individual and look forward to a long friendship with Marco and Sugar Creek Taxidermy Studio. Marco is the only one we will recommend to our friends and fellow hunters for their taxidermy needs.
Tim and Shannon Burnstad – Big Valley, AB
Marco's attention to detail is truly exceptional. He has a wealth of knowledge in wildlife artistry and uses these skills to bring your trophy to life. Last spring I was graced with an invitation to a spring bear bow hunt with Marco and another hunting buddy. All I can say is what an experience, from his professionalism in the commentary of the hunting video, where I took my first 350lb cinnamon black bear, to the respect given to the animal in the field photo's. I was even lucky enough to have Marco measure and skin my bear, ready for the tanner as soon as we got home. His experience in the field and respect for wildlife truly comes out in his work. Just step into his showroom and you will know exactly what I mean. I have two of my trophies in Marco's shop and can't wait to get them back.
Phillip McCaffrey (Bentley, Alberta)
Our family has had numerous mounts done by Sugar Creek Taxidermy. Each mount being different and unique from the others, the immense detail and artistic creativity that is put into each mount is unbelievable. They are truly works of art; we would highly recommend that you go down to his shop and check it out. Sugar Creek Taxidermy is the place to take your mounts they will truly become your treasures.
The Wiun Family (Red Deer, Alberta)
What can I as a hunter say about Marco (Sugar Creek Taxidermy Studio)? At this time, I have had three mounts done at Sugar Creek and as I write this note, I am awaiting the opening of the Fish and Wildlife office so I can register a once in a life time cougar taken Friday afternoon. This is not about a friendship with Marco, this is about entrusting an artist with a very valuable memory that reflects the beauty of nature, the majesty of the creature, the splendor of the Creator and the hunter that lives within me. I want something that I will be happy with, something that inspires the awe felt when I first saw this fantastic cat! I have that in the other mounts that have been done by Marco and know that I will enjoy that same satisfaction again.
Donald MacGregor (Red Deer, Alberta)
In 2007, after many years as a trophy hunter, I harvested my biggest buck to date. Making the choice of which deer to shoot can be difficult, but selecting a talented taxidermist isn't. Marco, at Sugar Creek Taxidermy Studio, is the only Wildlife Artist that I would trust to mount my "trophy of a lifetime". The turn around time was very quick and their work is competition grade. I would highly recommend Sugar Creek Taxidermy Studio for all of your taxidermy needs.
Blake Fafard (Red Deer, Alberta)
I have always wanted a cougar since I started hunting, when I was just a child. Cougars always fascinated me, so I finally went on a hunt in the winter of 2009 and shot a great tom with my bow. As this will likely be the only cougar I will ever harvest, I did my homework to find a taxidermist to do my mount. What interested me in Marco is that he is a hunter himself, having taken a cougar with his bow shortly before I did. He informed me that the expected turn around time would be 18 months. I was impressed with that because I just got my caribou back from another taxidermist and it took over 3 years. I was definitely not disappointed when I got the phone call after 11 months informing me that my cougar was finished and ready for pick up. My cougar mount looks phenomenal! Thanks Marco
Shane Hlushak (Fort Saskatchewan, AB)
We would like to thank Marco for the great job that he has done on our mounts!! I was lucky enough to harvest one of my goals in life a Bighorn Sheep. Sheep hunting has been in both of our family's pasts and has become one of our passions every year. So after harvesting a nice ram the search starts on finding a taxidermist I can trust. I was told of Sugar Creek Taxidermy from a friend of a friend that had never seen any of his work. So after talking to Marco and having a look at some of the projects he had done in the past I decided to give him a try and take my sheep to him. It was a great decision, he did an amazing job!! Candace just got her cougar back from Marco and the attention to detail is amazing!! It is everything we could of asked for and more!
I would and have recommended Marco to both family and friends. Thanks Again Marco!
Marty and Candace Umscheid (Rocky Mountain House, AB)
While touring the 2006 Red Deer Sportsman's show, a particular Taxidermy display caught my eye! The detail that went into the Deer, Antelope, Bears, and Mountain Goat I saw was very impressive. The display read "Sugar Creek Taxidermy Studio". I spoke with Marco who turned out to be the Taxidermist and Owner and asked where he was from. It turns out that Red Deer was home base. I knew right then where my next animal was going to be mounted. Turns out a B.C. resident I hosted for a Whitetail hunt beat me to it. He wanted someone who had done lots of Deer to do his Whitetail so Marco was the man for the job. The Whitetail mount was more detailed than he ever imagined and the cost was very affordable. My next animal was a Bear harvested in B.C. I had made into a throw rug. My 2007 Elk is currently being done under Marco's artistry at his new Studio in Riverside Industrial area, and I have a spot at home on the wall reserved for him. I also gained lots of knowledge from him on properly preparing my capes to ensure no hair slippage occurs from the hunt to when I get home. I have sent many friends to Sugar Creek Taxidermy Studio and I know where all my future Taxidermy will be done.
Phil Miner (Red Deer, Alberta)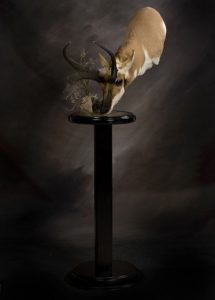 I'm happy to say that I think Marco is one of the best kept secrets in Central Alberta. I've been using his Taxidermy services for over 10 years. He has done Deer, Bears, Caribou, Antelope, and a Mountain Goat for me. One of the things that has really stood out to me in that time is the fact that he is not happy with "good enough". He is constantly learning new and better ways to do his magic and I'm never disappointed with the life-likeness of my trophy's. I'm confident that you'll be impressed with his work if you'll take the time to visit his new studio and show room. I'm also confident that you'll leave his shop with a new friend if you are the least bit friendly yourself. Thanks again, Marco!
Steve Hepworth (Innisfail, Alberta)
Marco I just want to say thanks again! Thanks for doing what many many people have called the best Cougar mount they have ever seen. I have been very pleased with the work you have done for me in the past. My Cougar, well a once in a lifetime animal; what can I say. You invited me into your studio spent hours with me looking at photo's talking about the every aspect of my adventure, even what kind of personality I felt the cat displayed. I explained to you the environment and what my idea was for a base and you seem to have been able to visualize it to perfection. You work exceeded every expectation I am thrilled! From price to finished product I am one very happy customer and look forward to see what you do with the Antelope and Bison!
Thank you for making a dream live on!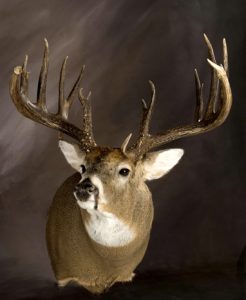 Thank you Marco for the outstanding work you did mounting my white-tailed deer. Our choice of form and pose truly highlight the 213″ antlers and your attention to detail is unmistakable. I am looking forward to seeing your talent  displayed on my caribou. I would recommend your studio to anyone who has high expectations of the end product.
My name is Steven Rupp and I am a thirty-five year hunting veteran and assistant guide in the Province of British Columbia. In the course of those many years, I have been privileged and honoured to harvest and guide hunters to many of the finest examples of British Columbia big game, a high number of these being Boone and Crockett calibre. This has resulted in a rather impressive collection of big game mounts in mine and others trophy rooms. I have been fortunate enough  to be able to have some of the finest taxidermists work on my big game mounts. It is my considered opinion that Mr. Marco Pilon of Sugar Creek Taxidermy Studio, is up there at the top. The Whitetail head mount that Sugar Creek Taxidermy Studio produced for me is truly one of the finest mounts I have ever seen . . . period! Its absolute life-likeness, attention to detail and use of the finest materials has resulted in a work of art. This animal looks alive and I cannot imagine how anyone anywhere at any cost could improve upon perfection . . . and I don't carelessly give out my endorsements. I highly recommend Sugar Creek Taxidermy Studio and Marco's extraordinary results. I am completely satisfied.
Steven R. Rupp (Williams Lake, BC)